Oslo sights and attractions
Karl Johans Gate

Karl Johan in the heart of Oslo is the best-known and the busiest thoroughfare in Norway, with 100.000 pedestrians using the street every day. Many of Norway's institutions are situated here, including the Royal Palace (Slottet), the Norwegian Parliament (Stortinget), the National theatre and the university. The lower part is pedestrianized; the upper section is used for parades.
Slottet (The Royal Palace)
This Neo-Classical building on three floors is situated on a hill at the end of Karl Johans gate. It was build as a royal residence in the reigns of King KarlXIV Johan and Oscar I, between 1825 and 1848.
Stortinget (The Norwegian Parliament)
is constructed in yellow brick a granite base. This is where Norway's National Assembly meets. It was completed and first used in 1866.
Akershus Slott (Akershus Fortress and Castle)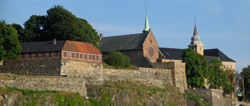 The Norway's best-preserved fortress and castle complex from the Middle Age.
Begun in 1299 by King Hakon, its stout walls and historic interiors bear the scars of many battle.
The complex is strategically situated on a rocky outcrop with excellent views ove Oslofjorden.
Today, Akershus Slott contains a variety of historic buildings, museums and defence installations. It is also the government's principal venue for state functions.
Aker Brygge
situated on the waterfront, Aker brygge is a popular place to meet up for a drink, a meal or to shop. This former shipyard abounds with life. It is packed with shops and eating places.
Radhus (Oslo city hall)
Christiania Torv

Frognerparken (Vigeland park)

Oslo's largest park is named after the sculptor, Gustav Vigeland, whose 212 sculptures depicting humanity in all its forms are artfully positioned along the central axis.
Vigeland started work on the park in 1924. By 1950, seven years after his death, most of the pieces were in place.

The sculptures were modelled in full size in clay by Vigeland himself, but the carving in stone and casting in bronze were carried out by others. The interplay between the sculptures, the green areas and the architecture is a breathtaking sight.
Top sights of the Frognerparken are Wheel of life, Monolith, The Clan, Triangle and the Fountain.
Holmenkollen (The Ski Jump)
Oslofjorden (Oslo Fjords)
Oslo Huk (the beach)